Infra Pro Consult Ltd was founded in 2013.
The main directions in which it is profiled are the development of road and railway investment projects.
The number of specialists changes dynamically depending on the specific tasks, as the constantly engaged are between 6 and 12 and reach 40-50 and more in larger complex projects. Of course, for all specialized activities the relevant highly professional and responsible specialists for the period of the respective task are attracted.
The long-term experience of the company's managers guarantees the organization and timely development and coordination of all projects and parts included in a given task.
In order to manage the quality of the company, an integrated system has been developed and implemented in accordance with the requirements of international standards:
QUALITY MANAGEMENT SYSTEM – EN ISO 9001:2008
from February 2017 comes into force
QUALITY MANAGEMENT SYSTEM – BDS EN ISO 9001:2015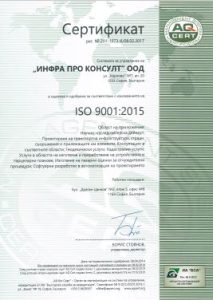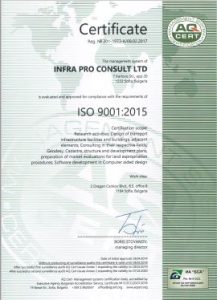 ENVIRONMENTAL MANAGEMENT SYSTEM – ISO 14001:2004
from February 2017 comes into force
ENVIRONMENTAL MANAGEMENT SYSTEM – BDS EN ISO 14001:2015